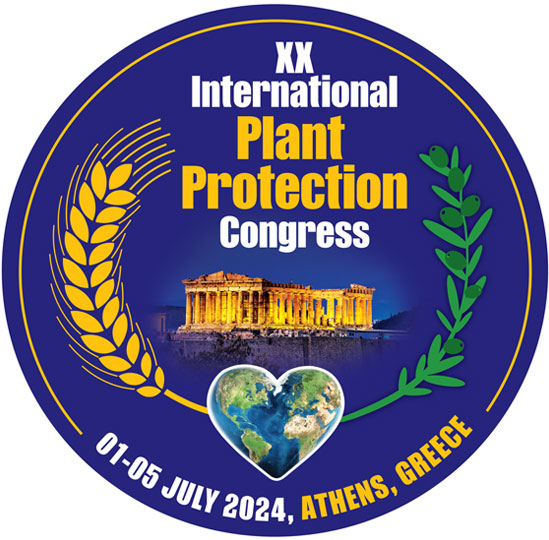 The XX International Plant Protection Congress (IPPCATHENS2024) is going to take place in Athens, Greece from 1-5 July 2024.

IPPCATHENS2024 offers a great opportunity to researchers, academicians and plant protection specialists both from the private sector or governmental services and to relevant organization around the globe to present their data and share information concerning latest issues on Plant Protection and Plant Health. After the covid19 menace we are back ready to meet again in person and to find the way back to top international congresses.
Dear potential participants

Interested scientists may submit proposals to organize a concurrent session either alone or with a co-organizer by September 30th, 2023.

Each concurrent session could be up to 4 hour duration, depending on the number of oral presentations proposed by the concurrent session organizer along with the additional oral presentations to be included following submissions in each concurrent session.

All of the abstracts of the papers to be presented in the accepted concurrent sessions should be submitted by the organizer/co-organizer, and the registration fees paid by the concurrent session presenters, by the Early Bird registration date.

Individually submitted presentations will be reviewed by the secretariat of the congress in collaboration with the organizer and will be included as oral or posters in the appropriate concurrent session.

Format for submission of Concurrent Session:
Name of organizer/co-organizers who will act as chairperson along with a co-chair
Lead speaker (Oral presentation, 25 min)
List of invited speakers (Oral presentation, 20 min)
Title of the Concurrent Sessions
A brief background (250 words)
Scientific section (Select from six XX IPPCATHENS2024 Thematic Areas):
For you facilitation please visit the list of six general topics where the proposed concurrent session of the XX IPPCATHENS2024 are included and select the most appropriate for your specialization
Plant protection
Phytopathology and Plant Microbe Interactions
Entomology, Nematology and Molecular Entomology
Herbicides and Weeds
Plant Protection Products
Integrated Pest Management
Submit your concurrent session by September 30th, 2023 using the following on- line platform link
The organizers will be informed about the acceptance of their proposal to organize concurrent sessions for XX IPPC ATHENS 2024 by October 20th, 2023.